Introduction
The Intel 12th generation line-up of CPUs offers a massive range of entirely new features for consumers to sink their teeth into. From PCI-E 5.0, Gen4 SSD compatibility and DDR5 memory support, we've seen a big upgrade to the architecture and tech available on these new CPUs.
With any CPU launch, motherboards inevitably follow. These new motherboards will be bound to different chipsets, and dependent on which board you choose, you may or may not be able to leverage some or all of the fancy new tech.
Its an exciting day at the GeekaWhat office, because we've got our hands on NZXT's newest line-up of motherboards – the 'N' series. In this piece we'll be taking a look at the N5 Z690 motherboard in particular, breaking down the core components, features, design and figuring out if this board deserves its price tag. We have also reviewed the higher-end, N7 design in a full review where you can read how this board differs.
NZXT 'N' Series Line-Up
NZXT's latest motherboards are their newest entry into the high-end motherboard market on the Z690 chipset. Not too dissimilar from their newest case line-up, the H7 series, these motherboards are geared towards different types of builds both in terms of aesthetic and features. This design philosophy change is definitely a good shift towards being more pro-consumer, giving gamers and enthusiasts a wide range of possibilities for their build.
The new motherboards that NZXT have put onto the market are the N5 Z690 motherboard, and the N7 Z690 motherboard. Both of these motherboards provide some varied features based on the model you decide to pick up. The N5 is the cheaper of the two, ideal for those wanting to pick up a high-end motherboard with a nice aesthetic, but a price that won't make your eyes water. By contrast, the N7 motherboard is slightly more expensive sporting a different aesthetic with access to more features. It is great to see NZXT providing an alternative option with launch, by offering a cheaper, more stripped-down motherboard in the N5.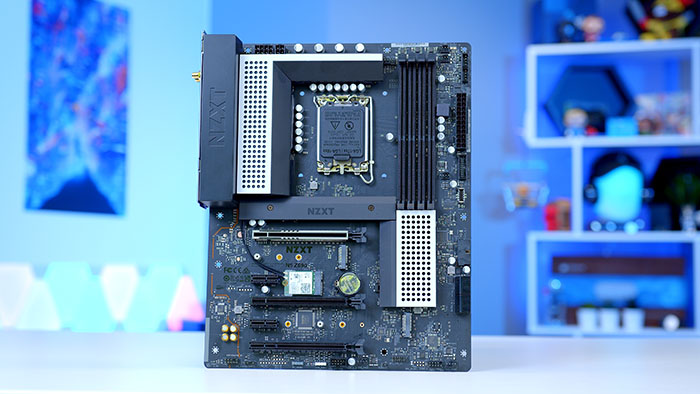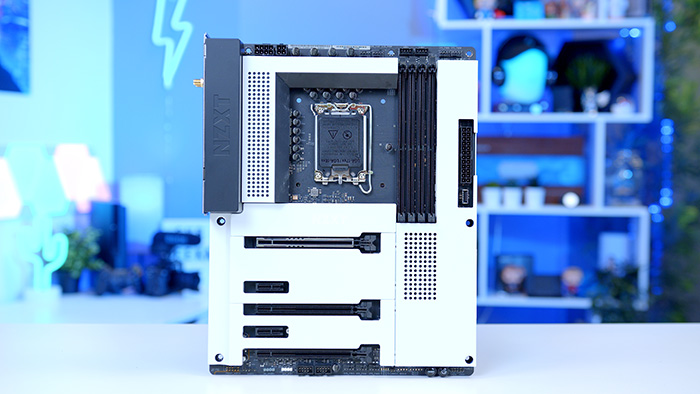 Chipset
NZXT's N5 motherboard utilises the Z690 chipset, which is the high-end option within Intel's 12th Gen range of CPUs. This particular chipset has access to all of the newest features available. You also have access to CPU overclocking, which can be a deal-breaking feature for some consumers wanting to squeeze the most performance out of their system. If you're looking to learn more about the Z690 chipset, and how it compares to the budget alternative B660, we recommend you check out our full Z690 vs B660 article.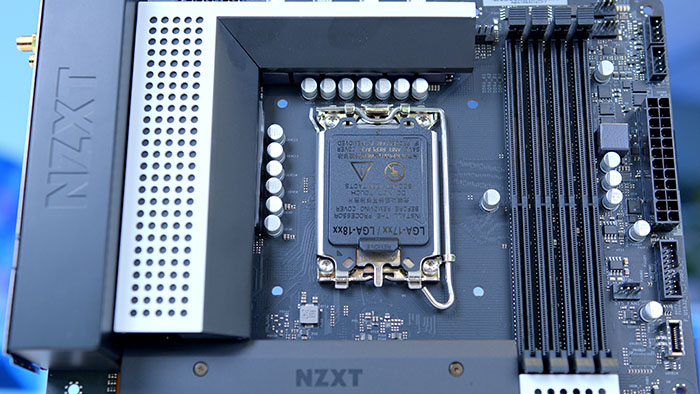 Arguably, the Z690 chipset is the best option for gamers and enthusiasts wanting to future proof and make the most out of Intel 12th gen. Something we have seen widespread on Z690 motherboards is support for DDR5 memory. Although DDR5 memory tech is still in it's infancy, if you've got the money to spare, these kits will benefit high-end components pretty well. With larger capacity DIMMs, more bandwidth and higher clocks speeds, DDR5 memory will supplement the usage of powerful GPUs, like Nvidia's RTX 3090Ti, and Nvidia's RTX 4000 series. In order to keep the price of this board down, NZXT have opted not to include DDR5 memory support. For this cheaper, N5 design, we think this makes sense. For the more pricey N7, we think DDR5 memory support would have been a welcome addition.
Another feature available with the Z690 chipset is PCI-E 5.0 support. Harking back to the rumoured RTX 4000 series cards, these GPUs are said to utilise the PCI-E 5.0 for power and bandwidth. This makes the inclusion of this standard a must-have for those looking forward to future hardware releases and upgrades.
N5 & N7 Specs
For some context, we've provided a table that compares the major differences between the N5 & N7 motherboards. This will give you an idea of some of the features available between them, and what you can gain by spending a little bit more.
Features
NZXT N5
NZXT N7
CPU Overclocking Support
Yes
Yes
PCI-E 5.0 Slot
Yes
Yes
DDR5 Memory Support
No
No
Memory Overclocking Support
Up to 5000MHz
Up to 5000MHz
M.2 Connectors
3x PCI-E 4.0 x4 Connectors
1x PCI-E 3.0 Connector
3x PCI-E 4.0 Connectors
USB 3.2 Connections
1x USB 3.2 Gen 2 Type-C
1x USB 3.2 Gen 2 Type-A
4x USB 3.2 Gen 1 Type-A
1x USB 3.2 Gen 2 Type-C
2x USB 3.2 Gen 2 Type-A
3x USB 3.2 Gen 1 Type-A
LAN Type
2.5 Gigabit LAN
2.5 Gigabit LAN
Integrated WiFi Support
Yes – WiFi 6E
Yes – WiFi 6E
Integrated IO Shield
Yes
Yes
Form Factor
ATX
ATX
MSRP
$239.99
$299.99
Aesthetics & Design
Despite the N5 being the cheaper model of the two, aesthetically NZXT have really strived to release an awesome looking motherboard. The N5 has a fair amount of exposed PCB, but the matte black finish across the entirety of the board makes it looks pretty cool. Towards the right hand side and top left, there are some extended heatsinks. Both of these are white, which provide some nice contrast to the all-black finish around the board. These heatsinks also feature some perforations on the top, not too dissimilar from the H7 line-up of cases.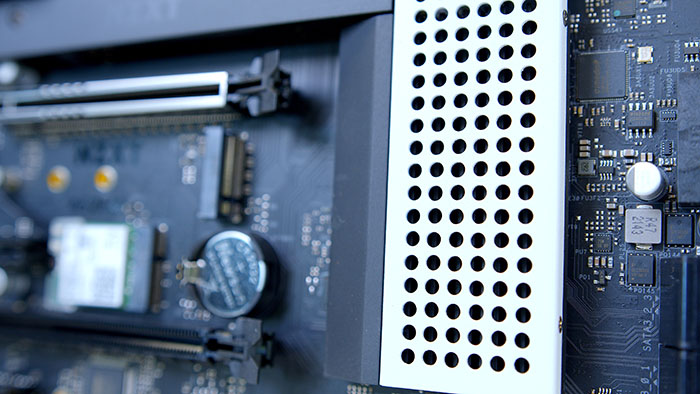 Otherwise there isn't a whole lot to say about the overall design. NZXT has definitely taken a more minimalist approach, similar to their H7 base model. This minimal style leaves more exposed PCB which doesn't look too bad because of the matte colour. The addition of some contrast with the white heatsinks is another nice, well thought through addition. We'd like to see some more RGB to brighten up the board, especially considering the price tag, but this isn't a necessity and won't add extra performance.
Features
Due to this motherboard using the Z690 chipset, you're definitely spoilt for choice when it comes to features. Although the price tag is on the higher end, you get what you pay for in terms of the available features. You're given a wide range of options to choose from, and below we've broken down some of our favourites.
PCI-E 5.0 Support
For those wanting to future proof their build, or upgrade to the latest and greatest GPUs, PCI-E 5.0 will be needed. This is a great addition provided by the Intel 12th Gen CPU line-up, doubling the bandwidth of PCI-E Gen 4. Although current generation SSDs or GPUs utilise the bandwidth, these will be a must have for high-end builds in the future.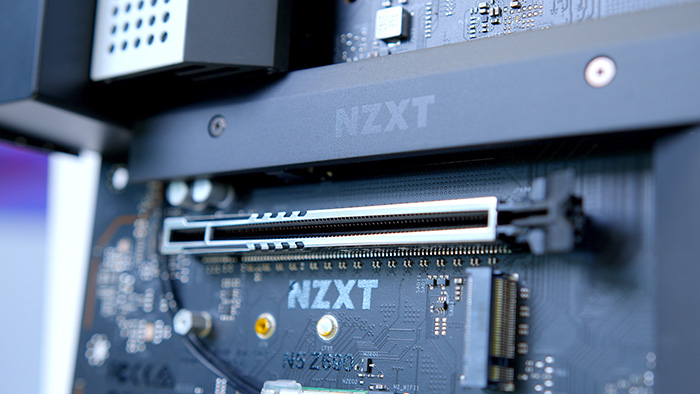 CPU Overclocking
To overclock your Intel 12th Gen CPU, Z690 boards are a prerequisite. Realistically we'd want overclocking to be supported on all chipsets, but you'll probably be spending a little bit extra to get the most out of high-end components. For VRMs you're looking at a 9 DrMOS power phase system. Ideally we'd want more for the sake of stability, especially with the attached price tag, but the power delivery should be plenty for some performance wiggle room.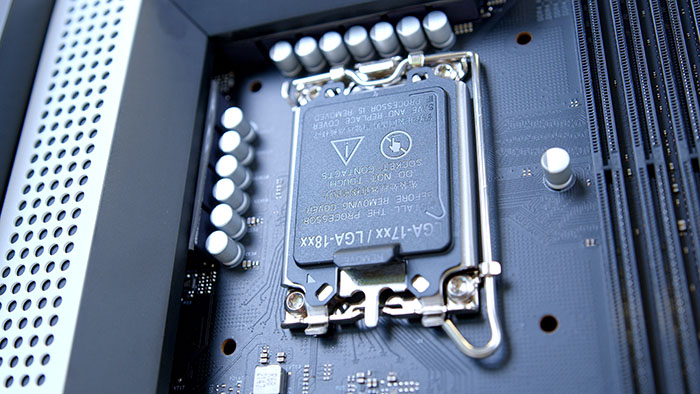 Rear IO
For rear IO, there's plenty of choice, including the latest generation of high speed USBs. You're given 5 USB 3.2 ports, with one of them being the Type-C variant. This is a fairly solid, if a little slim, range and amount to plug in peripherals, external drives and other USB add ons. Dependent on your setup you may want to make use of the integrated WiFi 6E, ideal for high speed routers. Alternatively, if you don't mind the cable management there's also the option for 2.5 Gigabit LAN. Lastly, you have some 3.5mm jacks with the provided small audio suite, and the option to upgrade your BIOS nice and easily with the flashback button.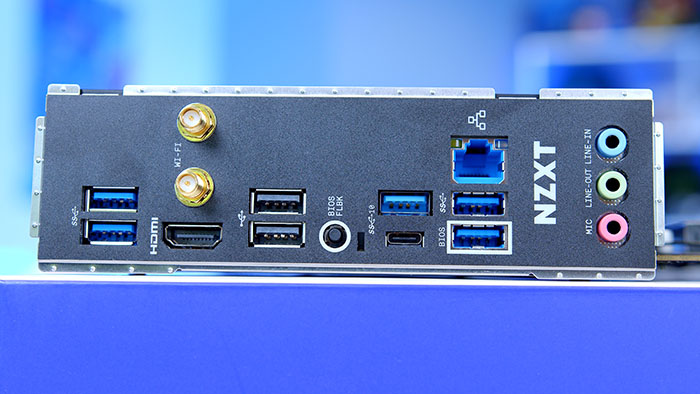 Internal IO
Your choice of internal IO is quite vast and not dissimilar from your rear IO. The N5 features three USB headers, two of which are for USB 3.2 Gen 1 and Gen 2×2 for Type-C. There's also plenty of choice when it comes to cooling and RGB. You're given four 4-pin system fan connectors, and four RGB connectors. Two of which are NZXT RGB LED connectors designed specifically to work with NZXT's Cam Software.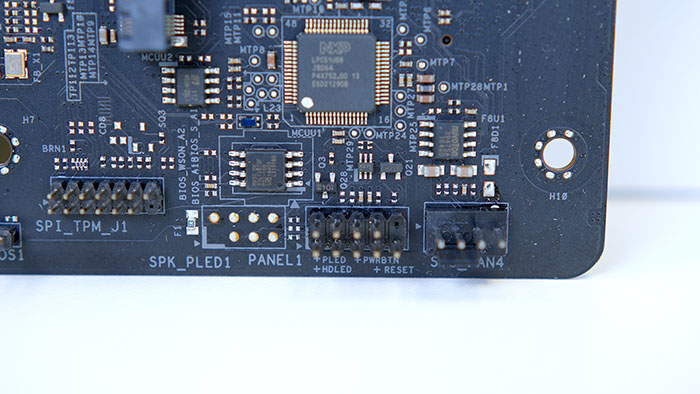 BIOS Flashback
It can be infuriating upgrading a PC build, and then realising that you need to upgrade your BIOS in order for your PC to function. NZXT has made this much easier by including a BIOS Flashback button. All you need to do is plug a USB into the slot designated 'BIOS' and then click the "BIOS FLBK" button located on the Rear IO. This will allow you to switch to the BIOS located on your USB stick making your upgrading process much easier.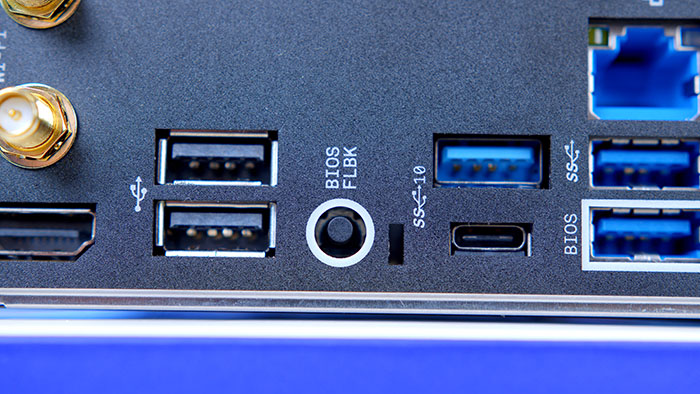 BIOS
If you're building a PC for the first time, you might be unsure as to what a BIOS is and what you'll encounter. Quite simple, a BIOS is the software on a motherboard that allows you to configure certain settings, like overclocking, boot options and fan curves. NZXT has their own BIOS that will allow you to make tweaks so that your build is running exactly the way you want it. Below we've broken down some of the BIOS features that we thing are awesome on this NZXT board!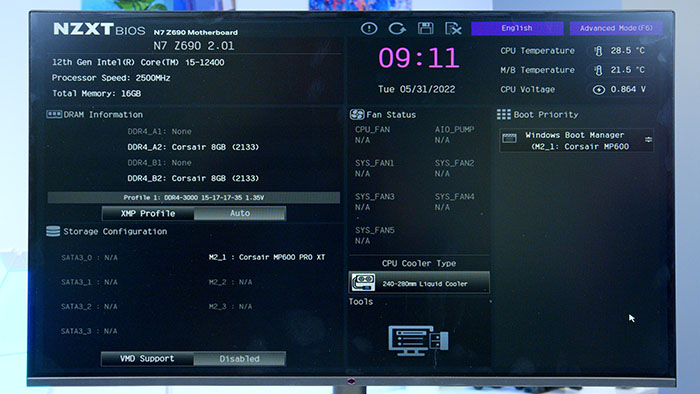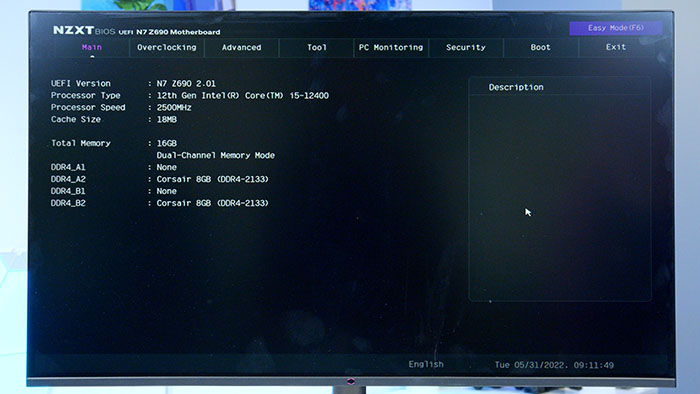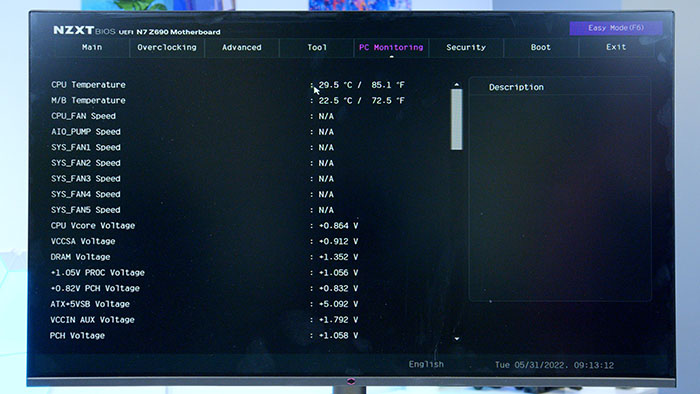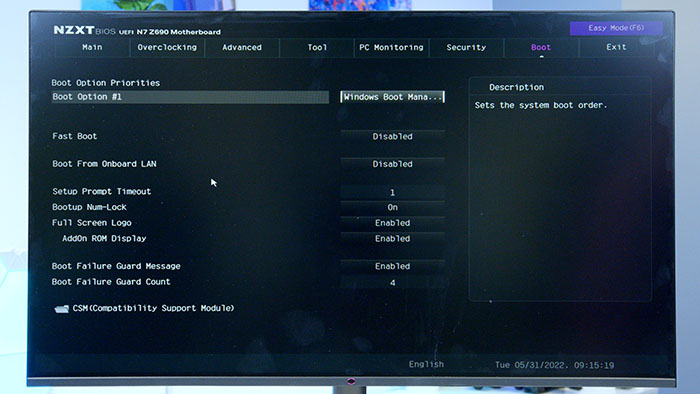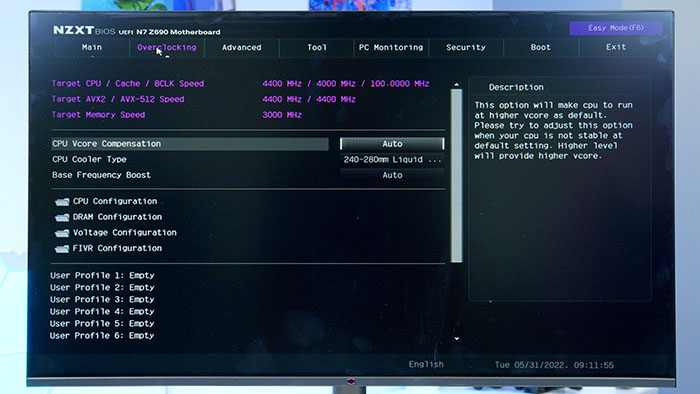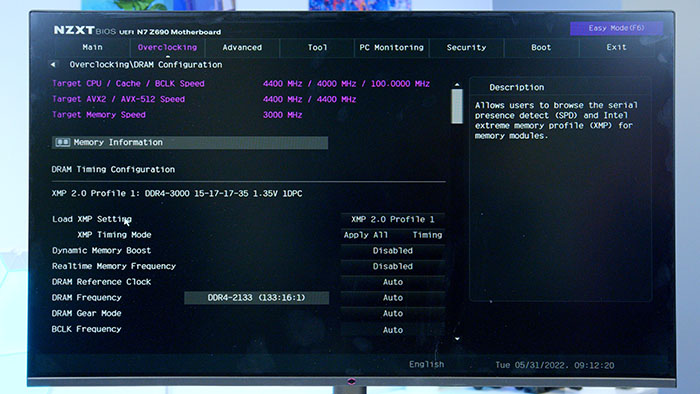 Compatible Processors
NZXT's N5 motherboard boasts compatibility with all of the current consumer chips on Intel's 12th Generation line-up. Although this motherboard technically supports all of the 12th generation Intel CPUs, we would recommend sticking to the Core i5 and i7 range. As much as the overclocking on this board is feasible, the rather low amount of power phases won't be able to push your CPU to the maximum.
On the other hand, a lower-end CPU like an i3 will frankly be underpowered for this board, in which case you'd be better off picking something more budget oriented. This board will handle the Core i5 and i7 CPUs very well, giving you the option for overclocking if you want it, and good value for money. If you're still a little unsure, we recommend checking out our CPU and Motherboard pairings guide which covers some of the best current generation options from Intel and AMD in more detail.
| | | |
| --- | --- | --- |
| CPU Name | Compatibility | Do We Recommend? |
| Intel Core i9 12900KS | ✅ | ❌ |
| Intel Core i9 12900K | ✅ | ❌ |
| Intel Core i7 12700K | ✅ | ✅ |
| Intel Core i7 12700KS | ✅ | ✅ |
| Intel Core i5 12600KF | ✅ | ✅ |
| Intel Core i5 12600K | ✅ | ✅ |
| Intel Core i5 12400F | ✅ | ✅ |
| Intel Core i3 12100K | ✅ | ❌ |
| Intel Core i3 12100F | ✅ | ❌ |
Where to Buy
---
Gallery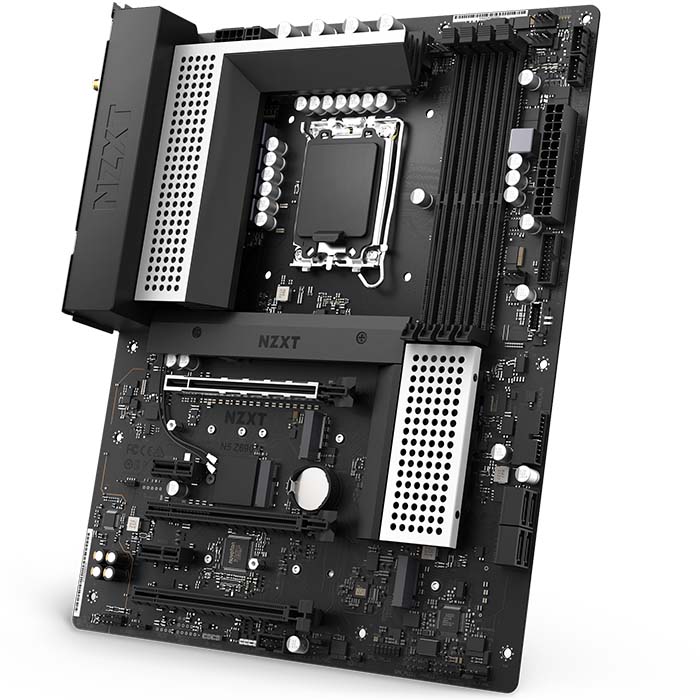 Conclusion
NZXT N5 Z690 Motherboard
Product Name: N5 Z690
Brand: NZXT
Features

Design

Performance

Value For Money
Summary
NZXT's N5 Z690 motherboard is a great addition to their newest line-up that utilise the great features that come with Intel's 12th gen CPUs. You're given the excellent aesthetic that is provided with NZXT products, combined with the power to unlock with some high speed DDR4 memory. Perfect for a Core i5 or i7 chip, this is without a doubt a mid-range Z690 motherboard. There are things it could improve upon, and we can't help but feel disappointed with the lack of power phases for overclocking. The Z690 chipset is the only available option for overclocking, and with a board that has quite a high price tag we expect a little bit more to get the most out of unlocked CPUs. 
Pros
✅ Wide range of features.
✅ Beautiful sleek design.
✅ Ideal for high-end builds.
Cons
❌ Quite Expensive.
❌ Lack of power phases for overclocking can cause stability issues.
❌ No RGB or lighting on the board.