Introduction
The last couple of years have not been a good time period for those looking to buy a new GPU. With silicon shortages, compounded with huge demand for new GPUs, availability has been scarce to say the least. But things are changing, and in a big way. Recent reports indicate pricing is now firmly on a path back to MSRP, and cards are becoming more available by the day. Recent new releases in the AMD RX 6650XT, 6750XT and 6950XT, alongside Nvidia's new RTX 3050 are only helping supply further.
But the question is, now you can actually pick a GPU, which one do you pick?
Today we're hoping to relieve some of that stress of picking out components, by compiling a list of the of the best graphics cards to buy in 2022. This list includes our favourite graphics cards for a range of price points – each offering a solid mix of performance at a range of resolutions.
What is a GPU?
Before we get into the nitty gritty of our favourite GPUs, we should first cover what the purpose of a dedicated graphics card is. A dedicated graphics card is a piece of hardware that controls the display output to some form of screen. The better the GPU, the better resolutions, refresh rates and qualities it can output – and in gaming land, the better a GPU, the more gaming power it has.
Some CPUs include integrated graphics, but these are only powerful enough for general productivity use – let alone multiple, high-resolution monitors or gaming at playable frame rates.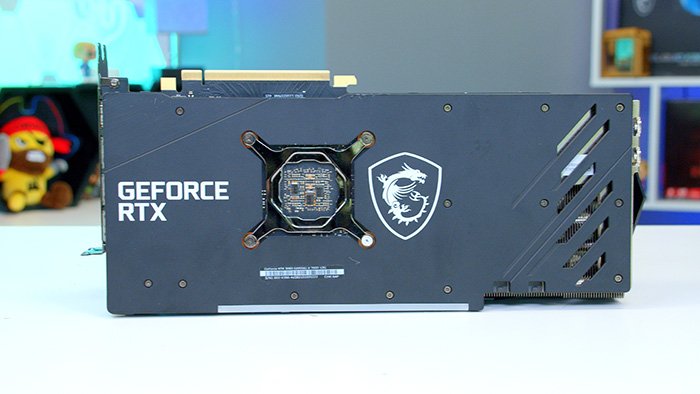 For those whose CPU lacks any included graphics, or for those simply looking to do some gaming, a GPU is a firm requirement. Unlike integrated graphics on a CPU, a GPU comes with its own super-fast memory, cache structure, CPU cooling solution, power delivery and more. These are all built onto a PCB which slots into a PCI-E slot on your motherboard.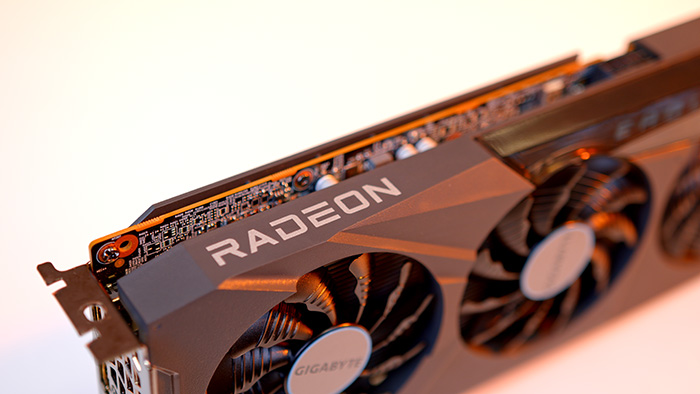 AI Upscalers, VRAM, & Clock Speed
Since the release of Nvidia's original RTX 2000 series, we've seen an incredible jump in technological innovation across the GPU market. The introduction of new features, and new types of GPU cores have complicated a graphics market, which just a few years prior was more linear, and easily measurable in the performance department. Plus, with Nvidia's RTX 4000 series on the horizon, and next-gen GPUs from AMD rumoured to land this year, further improvements don't show any sign of disappearing just yet.
The last couple of years have seen graphics cards be given more VRAM, higher clock speeds, and more software innovations which look to extrapolate as much from the hardware components as possible. The increase in VRAM on GPUs (most cards now ship with at least 8GB), has been crucially important. As the textures in games increase in quality, render distances get ever larger and game maps become bigger, more memory on your GPU is crucially important. Plus, with GPUs now boasting much higher pure speed, it is important that the data pipeline to the GPU chip itself is readied with lots of fast memory.
Similarly, this also ties into clock speeds. The amount of graphics cores that a GPU has are clocked at a certain speed. This speed will determine how fast these cores run, and essentially the higher the clock speed, the faster that a GPU can render out images. If you are the kind of person to be building a PC that focuses on workstation-based applications, then a GPU with a higher clock speed will be more beneficial for you.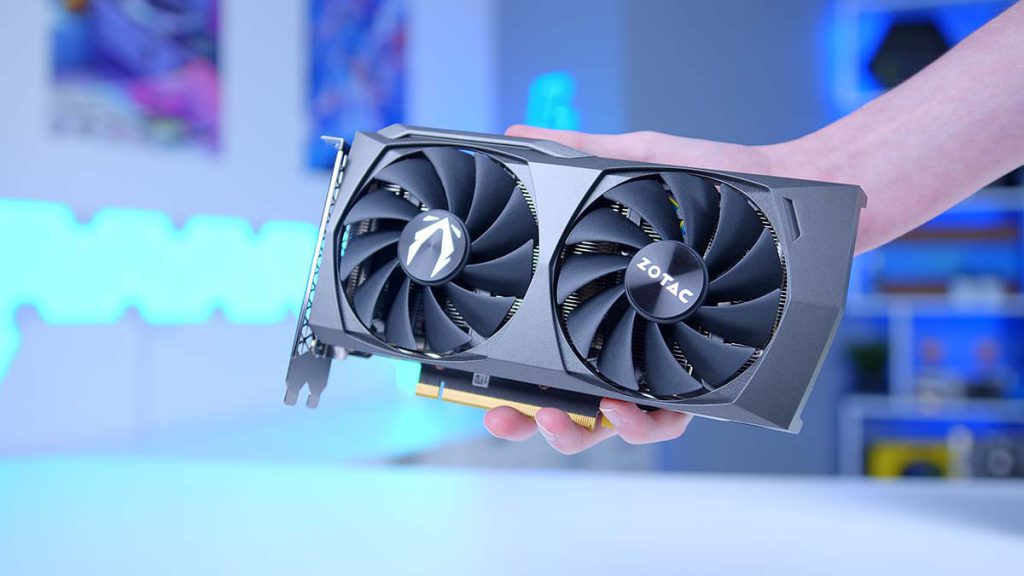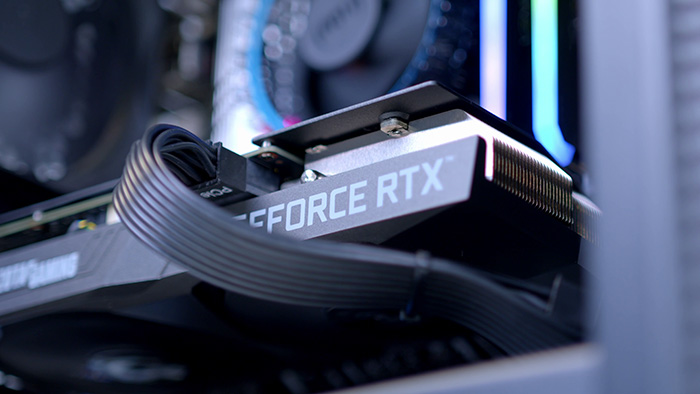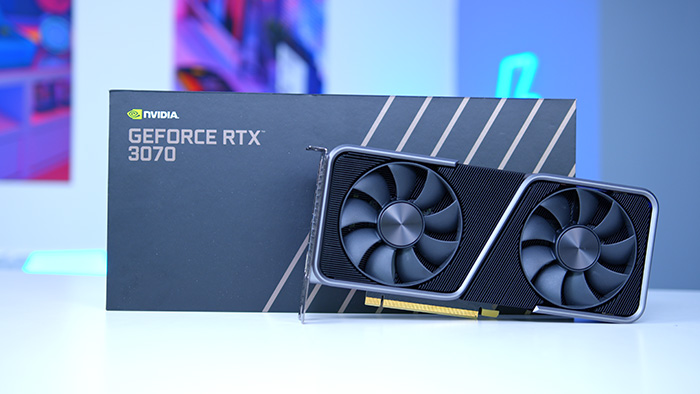 AI Upscalers are another recent addition to GPUs. Nvidia's RTX series debuted DLSS – an incredible piece of software that allows your GPU to render images at a lower resolution than your monitor, but uses AI to upscale to your native output resolution. The clever tech essentially a 'redraws' the image, through the help of machine learning, thus reducing the performance overhead of higher resolutions. This fancy tech utilises new hardware cores on the card (known as Tensor & RT cores), introducing one of the greatest hardware and software innovations we've ever seen in the GPU space. But Nvidia aren't alone here, as the introduction of AMD's FidelityFX Super Resolution (FSR) applies some pressure to team green. The tech is less mature, and more akin to Nvidia's DLSS 1.0. but it's certainly a solid start from the guys and girls over at AMD.
Our Best GPU Recommendations
The GPUs below are recommendations that we love here at GeekaWhat. All of these graphics cards will differ somewhat in price and will offer different performance metrics for a range of build types. If you scroll down, you can also find some benchmarks from our YouTube channel, Benched by GeekaWhat! This channel features all of the benchmark runs for all of the graphics cards that we've tested on some of the most popular titles out there.
1. Nvidia RTX 3050
The RTX 3050 is one of the most popular budget cards, and is ideal for those that want an awesome GPU, but are more conscious of their spending. In combination with DLSS, this card will hit high some very performance metrics at 1080p. You'll find yourself surpassing the 60FPS mark comfortably, in pretty much all of the latest titles.
Buy the RTX 3050 on: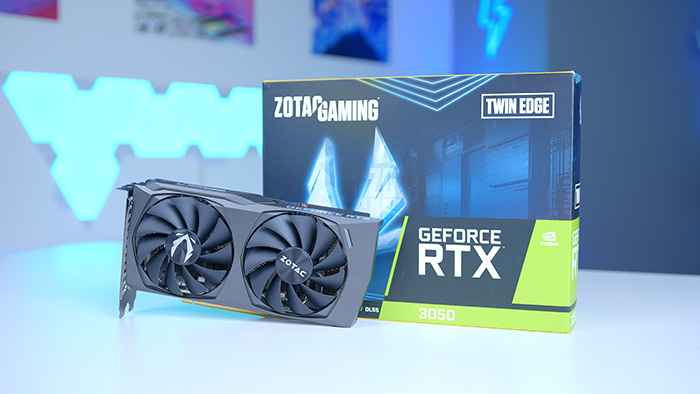 Fortnite (1080p Competitive): 180 FPS

Forza Horizon 5 (1080p High): 95 FPS

Apex Legends (1080p High): 126 FPS

COD Vanguard (1080p High): 88 FPS
Boost Clock Speed: 1.78GHz
2. Nvidia RTX 3060
Nvidia's RTX 3060 is another excellent card that brings great performance at a lower price. Our benchmarks show a significant increase in frames versus this card's younger sibling – the 3050. The 3060 is pointed towards users that are still within the budget price bracket, but want an extra performance boost.
Buy the RTX 3060 on: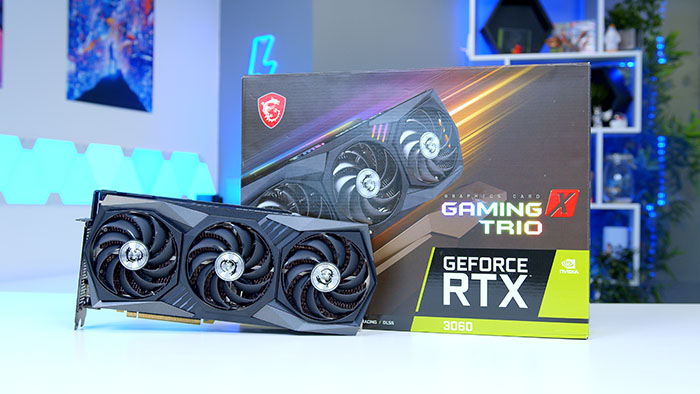 Fortnite (1080p Competitive): 204 FPS

Forza Horizon 5 (1080p Ultra): 84 FPS

Apex Legends (1080p High): 160 FPS

COD Vanguard (1080p High): 124 FPS
Boost Clock Speed: 1.32GHz
3. AMD RX 6650XT
The RX 6650XT is AMD's major competitor to the RTX 3060. In pretty much every instance the 6650XT is able to outperform or stay on par with the 3060. Although the frame difference isn't huge between them benchmarking-wise, it is still extremely impressive to hold it's own against one of Nvidia's best budget cards. When AMD's FSR becomes more mature and has a wider range of games, it'll be great to see how this card performs against DLSS.
Buy the RX 6650XT on: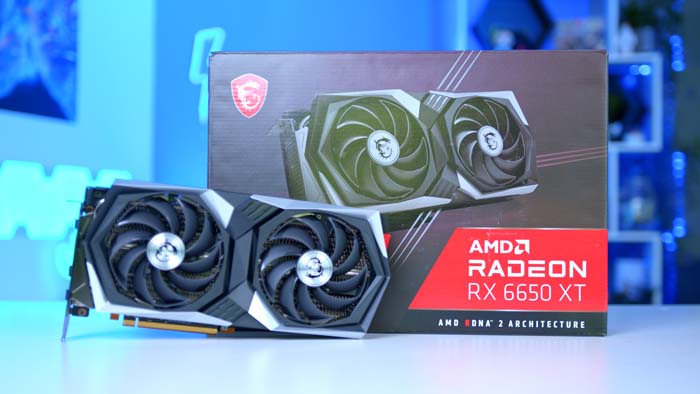 Fortnite (1080p Competitive): 210 FPS

Forza Horizon 5 (1080p Ultra): 96 FPS

Apex Legends (1080p High): 187 FPS

COD Vanguard (1080p High FSR On): 184 FPS
Boost Clock Speed: 2635MHz
4. Nvidia RTX 3060Ti
The RTX 3060Ti was one of the earlier cards to release from Nvidia, pointed towards the mid-range market. This card is extremely powerful, and comes with 8GB of GDDR6 VRAM and 4864 CUDA Cores. In terms of performance, from the benchmarks below you can see that the 3060Ti provides a huge boost versus the 6650XT and 3060. The only thing I'd like to see with a theoretical 'RTX 4060Ti' would be more VRAM, though this seems a certainty given current market trends.
Buy the RTX 3060Ti on: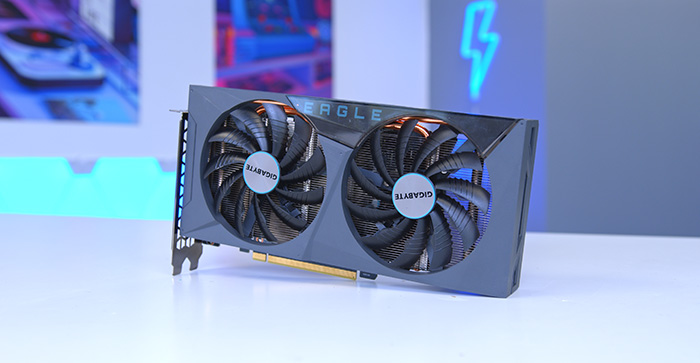 Fortnite (1080p Competitive): 243 FPS

Forza Horizon 5 (1440p Ultra): 92 FPS

Apex Legends (1440p High): 142 FPS

COD Vanguard (1440p High): 122 FPS
Boost Clock Speed: 1.67GHz
Budget and Mid-Range Benchmarks
Whenever we get a new component, we put it through the wringer with some gaming benchmarks. This allows us to see how the card performs, but it also gives you some context for how the component performs in some of the most popular titles.
The graphs we've provided demonstrate how some of the most popular budget and mid-range GPUs compare against one another head to head in these games. We test a range of games to give you a full idea of how powerful each GPU is!
5. AMD RX 6750XT
The 6750XT is part of AMD's newest line-up of cards, that are said to outperform against their Nvidia counterparts. This card is again pointed towards the mid-range market, and has some good legs for gaming at 1440p. Equipped with 12GB of GDDR6 VRAM, this card will definitely give the 3070 a 'run for its money'. It provides a solid increase in performance over the previous 6700XT, fulfilling the aims of AMD's RX '6#50 XT' refresh.
Buy the RX 6750XT on: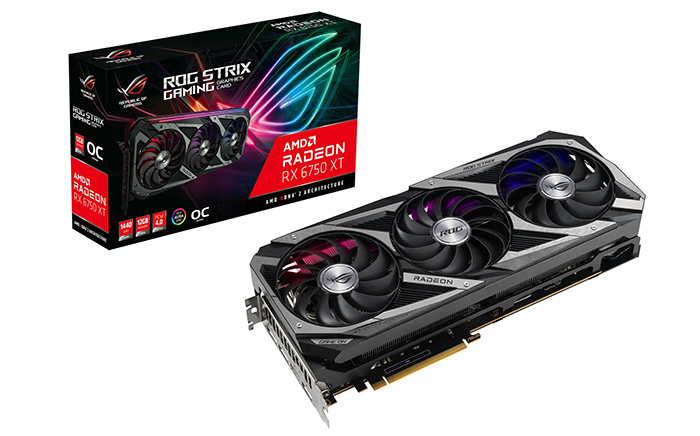 Fortnite (1440p Max Settings): 157 FPS

Forza Horizon 5 (1440p Max Settings): 91 FPS

Doom Eternal (1440p Max Settings): 196 FPS

AC Valhalla (1440p Max Settings): 121 FPS
Boost Clock Speed: 2600MHz
6. Nvidia RTX 3080
The RTX 3080 is one of the most powerful graphics cards currently on the market, and holds up well against AMD's 6900XT, despite a lower MSRP price pint. With different variants offering 12GB and 10GB of memory, you will see some huge performance stats out of this card. For those of you that are sporting 4K monitors, this GPU is definitely a good bet, working through the latest titles at high resolutions and frame rates.
Buy the RTX 3080 on: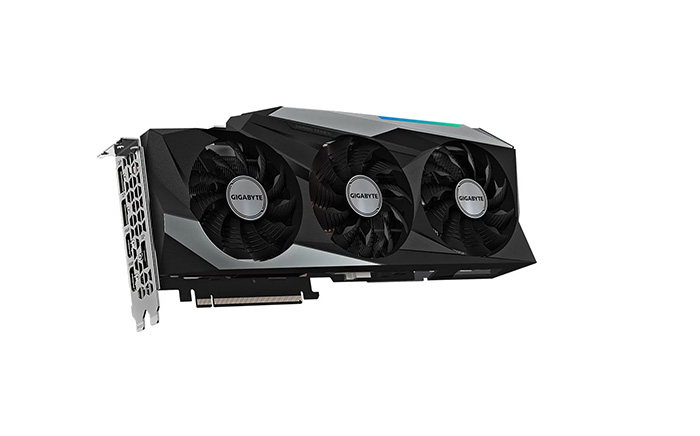 Fortnite (1080p Competitive): 270 FPS

Forza Horizon 5 (4K Ultra): 88 FPS

Apex Legends (4K High): 111FPS

COD Vanguard (4K High): 116 FPS
Boost Clock Speed: 1.71GHz
7. AMD RX 6950XT
AMD's RX 6950XT is the most powerful card AMD currently offers. With a whopping 16GB of VRAM, this card is ideal for users building high-performance workstations or for 4K gaming PCs. Equipped with 128MB of AMD's proprietary RDNA 2 Infinity Cache, and clocked at 2100MHz, performance is very solid. If anything, it is a shame AMD took so long to release this card, at a time when Nvidia have hit back with their new RTX 3090Ti.
Buy the RX 6950XT on: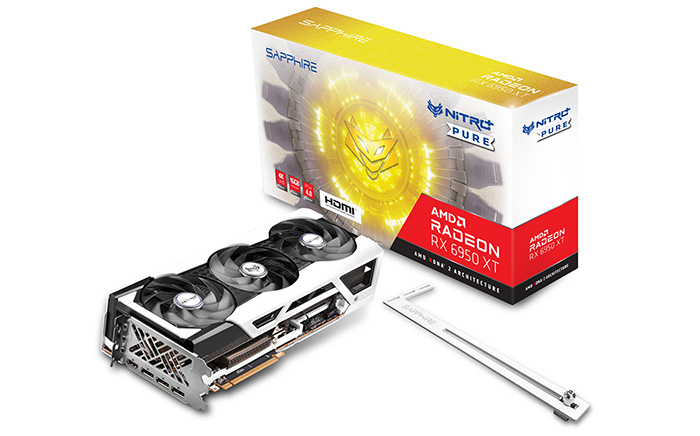 Fortnite (4K Max Settings): 234 FPS

Forza Horizon 5 (4K Max Settings): 103 FPS

Doom Eternal (4K Max Settings): 218 FPS

AC Valhalla (4K Max Settings): 125 FPS
Boost Clock Speed: 2310MHz
8. Nvidia RTX 3090Ti
The 3090Ti is one of the most incredible and powerful cards currently available on the market, and will essentially deal with anything you throw at it. This card can perform extremely well in workstation systems for rendering, or in 4K gaming at the highest settings with Ray Tracing on. If you want the best of the best, then this card is for you, but you'll need some seriously deep pockets for it to be a viable option.
Buy the RTX 3090Ti on: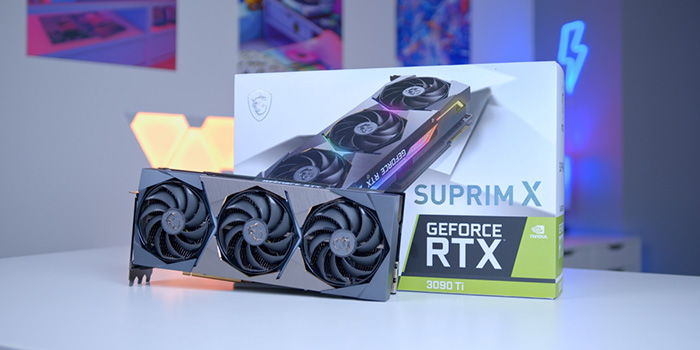 Fortnite (1080p Competitive): 291 FPS

Forza Horizon 5 (4K Ultra): 105 FPS

Apex Legends (4K High): 140FPS

COD Vanguard (4K High): 127 FPS
Boost Clock Speed: 1.86GHz